Simulator
Cleckheaton Golf Club has a rich history of making improvements both on the course and off the course, but few have been to the scale of building the area's leading indoor teaching academy and golf simulator facilities.
Providing two specialist bays, this state of the art purpose-built facility is fitted with a top of the range launch monitor & high speed video analysis. It includes:
Teaching and club fitting studio
Putting analysis technologies
78 course simulator bay (available to members only)
---
Junior Members - HALF PRICE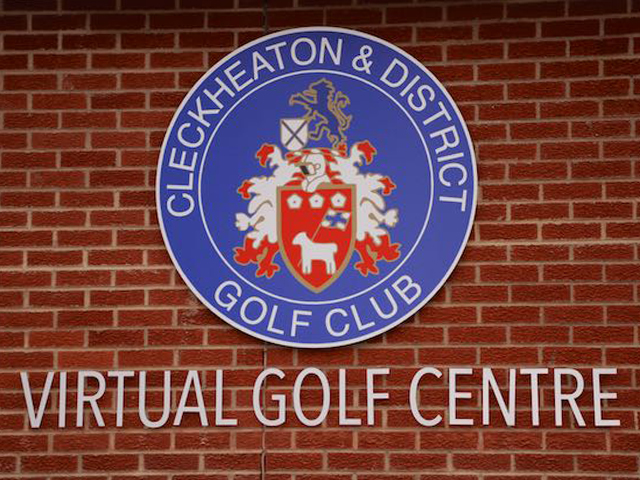 Both bays enable you to enjoy some of the world's top golf courses, no matter what the weather outside. The facility uses real golf balls and you can also use your own clubs.
The Full Swing Golf Simulator provides the ultimate indoor golf experience.
By combining the very best in software, ball tracking, image projection and touchscreen control, our full swing simulator uses dual tracking technology to measure your swing and ball flight characteristics to deliver the most realistic indoor playing experience.
Book Now
TECHNOLOGY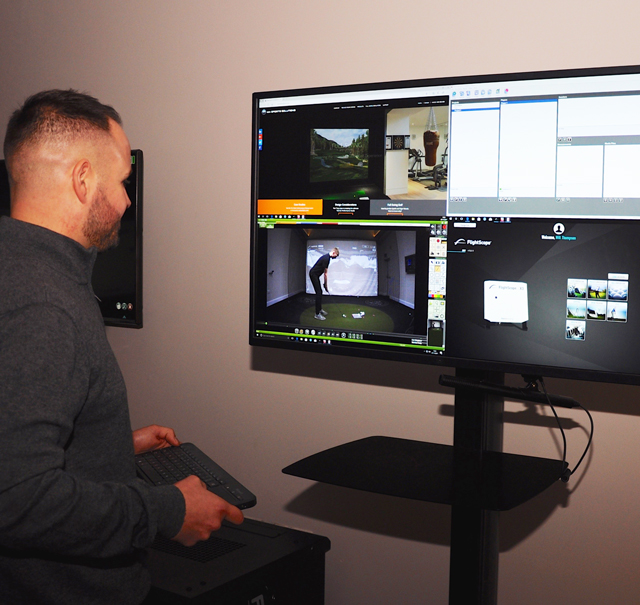 Both the Teaching Bay and Simulator Bay enjoy the latest technologies available to provide you with the most realistic, fun and accurate experience throughout your session.
The high definition video imagery is an essential part of any teaching analysis. Our HD cameras are the latest versions available and will capture everything there is to know about your swing.
The visual presentation within the studio is critical to create a high-quality experience. Our unique multiple display configuration combines large format 42" plasma displays, 24" displays and projection systems.
Even with club speeds of 150mph, our performance net systems place safety as a priority but importantly combine this with an innovative wire frame system which delivers a clean and tidy feel.
Whether hitting full golf shots or refining your putting stroke, the artificial surface is critical to simulating a real grass turf feel. We have installed the highest quality performance tee and putting surfaces creating a perfect level surface for the most consistent data capture.
TEACHING BAY
Predominantly used under the tuition of the Club's Professional, the Teaching Bay's latest flightscope technology will analyse your swing and provide visual feedback that's easy to understand. The simulator software is known for its realism and beauty and each one of the 15 world class virtual courses is a precise replica of its physical counterpart.
So whether you want to target pins or fire off the tee, you'll be able to see how your ball is reacting off the club and also why!!
An innovative combination of 3D tracking and image processing provides the most accurate tracking technology ever seen to provide you with the most accurate swing analysis to date using the latest technologies.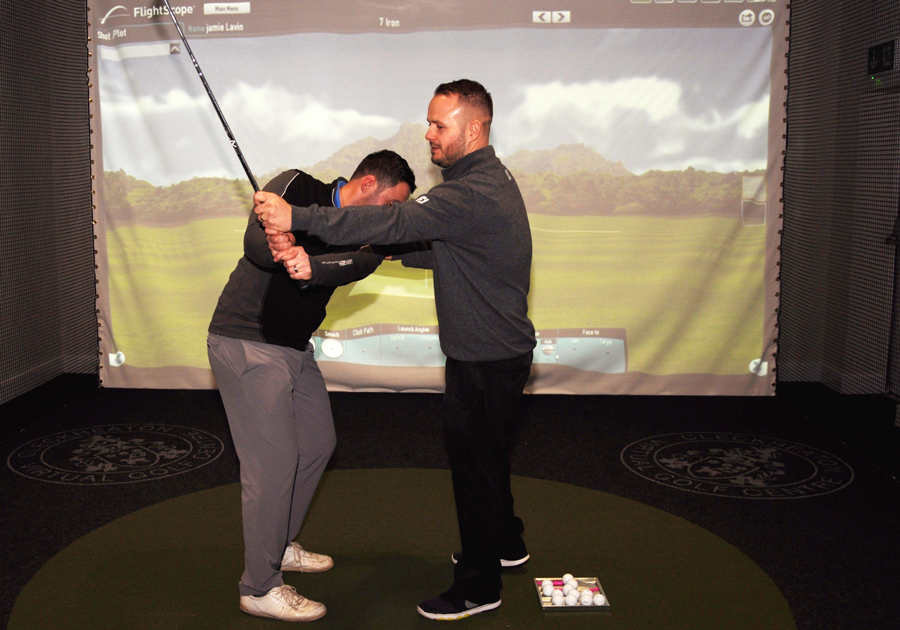 The Invisible Key to Success
If you want to improve your game, you need to know your game. Below are a list of the details the Teaching Bay Studio will show you about your swing and ball actions:
Vertical Launch Angle, Horizontal Launch Angle, Vertical Descent Angle, Smash Factor, Spin Rate, Spin Axis, Carry Distance, Roll Distance, Total Distance, Lateral Landing, Apex Height, Flight Time, Shot Dispersion, Shot Distance to Pin, Skills Score, Low point, Club Speed, Club Speed Profile, Club Acceleration Profile, Face to Path, Face to Target, Dynamic Loft, Angle of Attack, Club Path, Spin Loft, Swing Plane Horizontal, Swing Plane Vertical.
Below is a list of the 15 Golf Courses available:
Banff Springs Resort
Bay Hill Club & Lodge
The Belfry
Bountiful Golf Club
Castle Pines Golf Club
Firestone Country Club
Harbour Town Golf Links
Mauna Kea Resort
Par Three Ocean
Par Three Mountain
Gleneagles Golf Club
Pinehurst Country Club #2
Bethpage Black
Torrey Pines Golf Club
Troon North Golf Club
PUTTING LAB
43% of golf shots are putts and yet putting is rarely trained systematically, but not anymore. Together with international PGA Tour Pros, the scientists of Science&Motion (SAM) Sports have developed the SAM PuttLab to help you get the best from your flat stick.
The SAM PuttLab putting analysis and training system is considered as the leading technology in its field worldwide. It utilises ultrasound sensory analysis and is far more precise than any other similar system.
It analyses the 28 most important parameters of your putting stroke and displays the results in easy to understand graphic reports. Within seconds the system gives you an individual feedback on your putting strokes. The analysis reveals even the smallest details of your movements and allows you to develop improvements and training strategies.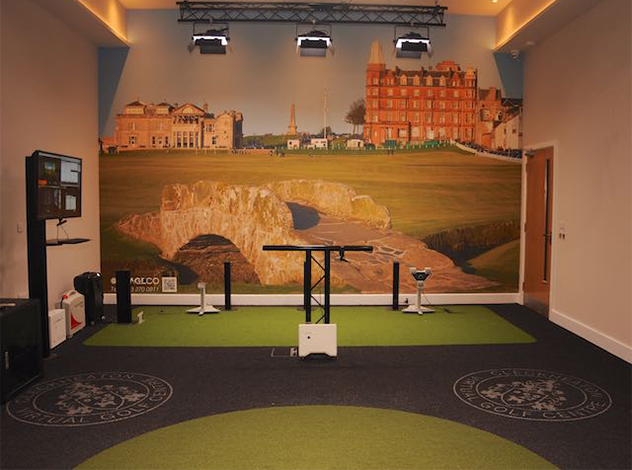 SIMULATOR
Golf any time, any weather, anywhere in the world!
Cleckheaton Golf Club's simulator is a high tech gaming system that provides golf course play and golf training for the entire spectrum of avid golfers, no matter what the weather outside.
With a giant screen, touch screen technology, synthetic grass hitting mat, commercial grade projector and 3D golf course environments that capture the true essence of outdoor golf play, you can enjoy the game of golf virtually any time on 78 courses from around the world.
The simulator can be booked for up to four golfers per session who are expected to finish a round in two hours without finishing putts, but it maybe you want to use the software to practice a specific shot or practice your draws and fades with accurate shot feedback.
| Duration | Fee |
| --- | --- |
| 30 Minutes | £10 |
| 1 Hour | £20 |
| 2 Hours | £30 |
| 3 Hours | £40 |
Book Now
Work the ball exactly as you do outdoors.
Hit with your own clubs and favourite ball make.
Compare ball tracers to perfect your ball flight.
Tee off, chip and putt on courses and practice scenarios.
Perfect that one approach shot behind the bunker, over and over.
Superior spin and club head measurement
Much better ball control and data feedback on screen
Superior speed and trajectory measurement
Experience Technology Used by the Pros.
Jordan Speith – "The FSG sim is the closest thing to being out on the course."
Tiger Woods – "Their new technology is impressive, as it allows me to shape my shots the way I want to."
Hunter Mahan – "I use my Full Swing sim several times a week to fine-tune my game."
Padrig Harrington – "Full Swing golf technology is an absolute game changer for me and my practice routine."
Billy Haas – "My sim continues to surprise me. I love this machine!"
Patrick Reed – "Full Swing's cutting edge technology will allow me to have a more consistent practice regimen."
Below are the 78 Golf Courses available:
Aviara, Bandon Dunes, Banff Springs, Barton Creek, Bay Hill, Belfry, Bethpage Black, Big Horn Canyons, Big Horn Mountains, Bountiful Ridge, Cabo del Sol, Castle Pines, Chateau Whistler, Cog Hill, Covered Bridge, Devil's Island - Fantasy, Dorado Beach, Entrada, Emerald Dunes, Firestone, Frankfurter, Gallery North, Grey Wolf, Gleneagles, Harbour Town, Hapuna, Hokulia, Innisbrook, Kapalua Bay, Kapalua Plantation, Kapalua Village, Kauri Cliffs, Kiawah Island, King & the Bear, Lakeside, Latrobe, Le Grand George, Loch Lomond, Mauna Kea, Mauna Lani, New South Wales, Oakmont, Ocean Mills - Fantasy, Owl Creek, Pacific Dunes, Panther Lake, Par Three Ocean - Fantasy, Par Three Mountain - Fantasy, Pebble Beach, Pelican Hill, Phoenix CC, Pinehurst #2, Pinehurst #8, Prairie Dunes, Princeville, Raven at South Mountain, Royal Melbourne, RTJ Auburn Grand National, RTJ Backbreaker, RTJ Cambrian Ridge, RTJ Heartbreaker, RTJ Mindbreaker, RTJ The Judge Capitol Hill, Sea Island, Skeleton Coast - Fantasy, Spanish Bay, Spyglass Hill, Stone Canyon, Superstition Mountain, Taghazout, Thanksgiving Point, The Tribute, Three Canyons - Fantasy, Torrey Pines, Troon North, Valderrama, Wade Hampton, Westfields
Book Now